We are planning a spring 2023 litter, and taking names for the wait list and deposits to hold a puppy. More information will be posted soon on this anticapated litter!
This breed is not for every family.
We don't breed "just to have puppies."
AKC papers are not an indication of quality.
The pedigree will show quality bred dogs.
We offer puppies whose parents and generations before
them have been health tested and cleared in order to produce
puppies, who are sound in Mind and Body.
We breed for the betterment of this breed, ones who can
compete in any venue and be great companions to families.
Parents are from generations of health tested stock.
All breeding stock has their health clearances
to include Hips, Elbows, Eyes and Heart.
These tests are done by the veterinary specialists who have
advanced training and are board certified in these areas.
Please call me at 205 515-7726 or email me at
Debbie@Liebmeister.com for more details!
I feed and recommend a raw food diet. All our German Shorthaired Pointer puppies are weaned to a raw diet for optimum health, nutrition and development. Excerpt from Juliette Levy, noted herbalist and advocate of "The Natural Rearing Diet." She addresses the growing age from 9 weeks to 9 months, "In those vital months the future lifetime of good or bad health is created. Ample diet of whole foods means development of ample stomach and intestinal capacity fully to digest foods, a strong boney frame which can never succumb to bone deformities such as hip dysplasia, etc, and strong development of the sexual organs. If those vital nine months of first growing are made a time of uncaring neglect, no future care, no matter how good and efficient, can ever give total health in adult life."
We are also advocates of limited vaccine protocols. Please ask for more information.
Knowledge is power:
Please don't have your beloved companion suffer from your lack of knowledge and blind acceptance of advice from those regarded as knowledgeable.
The crucial quality of life decisions are yours alone, and should be based on as much balanced information as can be acquired. Your beloved companion can't speak for itself,
It relies on your sense of responsibility for protection.
Don't be squeezed out of the opportunity to own one of our adorable puppies!
E-Mail: Debbie@liebmeister.com
Phone: 205-515-7726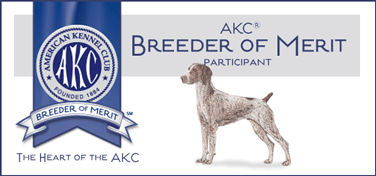 Breeder of quality German Shorthaired pointer puppies!